---
How to Use Consistent Deep Tissue Stretching to Improve Knee Strength & Health
For most serious knee soft tissue injuries, 100% injury healing requires stretching. Stretching is an important part of tendon, ligament and muscle healing - and it's the final step needed when healing your knee injury with conservative treatment methods.
It is a serious error to underestimate the importance of stretching a recovering knee injury. Before returning to full activity after an injury, physical therapists prescribe gentle stretching... This is because stretching helps work out scar tissue and prevent atrophy (tissue shortening). Consistent stretching is one of the only solutions available to break up scar tissue that forms on your knee as it heals.
Stretching with use of a TShellz Wrap® is Optimal!
Stretching your knee can
be more beneficial when applying
A Knee TShellz Wrap® Before Activity
A Knee TShellz Wrap® application will help to increase soft tissue elasticity while stimulating blood flow in the area before stretching.
---
There is a Unique Formula used for Knee Injury Recovery...
We're going to let you in on a key piece of information... In every physical therapy appointment your physical therapist will use conservative treatments, massage, manual manipulation and/or stretching exercises to give you this Professional 3-Step Treatment Formula:
Step 1

- Warm Up Your Knee
For this 1st step many physical therapists will use heat, manual manipulation, deep tissue massage, clinical ultrasound devices or a warm bath to warm up your knee. The goal during this first step is to increase healthy blood flow circulation and relax your soft tissue.
'Warming up' your knee will increase the elastic-nature of your soft tissue fibers making it much easier to stretch and when needed, hold the stretch. This will also extend the amount that you will be able to stretch your knee.
Increase Your Blood Flow Circulation at Home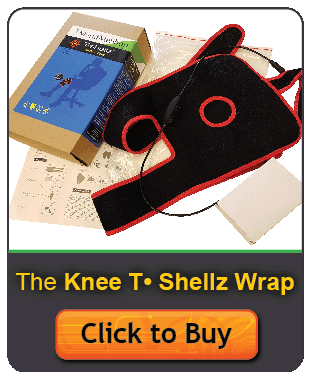 Use a Knee TShellz Wrap® for 15 to 20 minutes at least half an hour before stretching your knee. A TShellz® Circulatory Boost Wrap is a therapy intended to increase the blood flow to the knee while warming up and relaxing your injured tissue. This will help make your soft tissue fibers more elastic and pliable, allowing for more ease of movement when you're stretching and/or exercising.
Continued treatment with a TShellz Wrap® will also deliver much-needed oxygen, nutrients and water (basically energy) to your knee. This will boost your bodys own natural healing ability helping assist in your recovery.
---
Step 2

- Stretch Your Knee
The main goal of physical therapy is to exercise (stretch out) your knee to improve flexibility and range of motion. After the physical therapist has warmed up your soft tissue, they'll get you to do a series of exercises that are focused on stretching the area and surrounding soft tissue.
This exercise may include heel slides that are focused on moving your knee, quadriceps, groin, hip, hamstring, calf, shin and Achilles tendon.
Sometimes cardiovascular exercise, like using a stationary bike or treadmill, will be recommended under the supervision of your physical therapist.
Improve Your Range of Motion at Home
Your physician or PT can offer a stretching routine that will be beneficial to all of the tendons, ligaments and muscles in and around your knee joint. Stretch often as directed and increase your repetitions as movement becomes more fluid and natural for you.
Why are knee injuries so hard to over come? In two words - scar tissue.

Soft tissue is meant to be soft and flexiable, ready to work and move extreme forces in everyday activities. A sprain, tear, or stain in your knee will heal with scar tissue; little tiny band-aids that overlap each other on the tissue mending the injury. With the added scar tissue the soft tissue in your knee becomes rigid, less ready to move and unable to recieve the full force of your movements. If you're suffering with scar tissue now you may feel the effects with stiffness, tightness, weakness and tiredness in your knee.
Scar tissue can form fast to bring together the edges of a tear, but working fast doesn't mean that the job's done right. When scar tissue forms it doesn't come together as neatly as regular (healthy) tissue would. Scar tissue fibers will lay down over top of your tear in a cluttered, messy and jumbled up way.
Imagine throwing a bunch of drinking straws in the air... When those straws hit the ground they'll land in a random, unorganized way. It even seems silly to think that those straws could land perfectly straight and all in the same direction.
Stretching helps to organize the scar tissue, increasing the strength of this tissue so it's more like the weave of a basket.
Step 3

- Cool Down Your Knee
Toward the end of your appointment your physical therapist may introduce cold compression, acupuncture, or TENS to relax your knee after the intense stretching and exercise.
Use a Knee TShellz Wrap® before starting your stretching routine. The TShellz Wrap® will help increase flexibility during exercise and decrease the risk of further injury.
Use an Ice Pack or cold compress after stretching or anytime there is a flareup of swelling in the knee.